Sustainable Christmas Gift Guide 2021 - Online Shops For Eco-Friendly Presents
Image Credit: Kari Shea
As Christmas approaches, wouldn't it be nice to know that the gifts you are giving are sustainable, eco-friendly and ethically produced?
Would you like to easily find recycled cards and giftwrap, fairtrade items and organic beauty products, and have a sustainable and eco-friendly Christmas?
Make this year's Christmas gift giving not only make the recipient happy, but the whole planet feel better, by shopping at one of these sustainable, eco-friendly and ethical online retailers.
Natural Collection
The long established online ecostore Natural Collection's ethos involves selling items that are fair trade, organic and eco friendly, and their gift range echos that by including fairtrade chocolate, plastic free homewares, vegan foodie gifts and ideas for green gardeners.
We also love their bedding sets, ethically made from natural and sustainable materials and their organic fairtrade duvet sets.
Ecovibe
If you are looking for the best eco - alternatives to everyday essentials, Ecovibe are passionate about making it easier for everyone to live more consciously so that together we can have a positive impact.
For Christmas this means plastic-free crackers, plantable Christmas Cards, recycled wrapping paper and a re-usable fabric advent calendar, along with vegan chocolate and beauty gifts.
TheVeganKind
The go-to online place for vegan groceries TheVeganKind is also a fantastic place to get your Christmas gifts, including chocolates, biscuits, vegan make-up and toiletries and even candles, greetings cards and wrapping paper.
They even have a bookshop whit brilliant gift ideas including vegan cookbooks, colouring books with meat-free slogans and books on animal rights too.
Big Issue Shop
Champions of the homeless, the marginalised and the vulnerable, the The Big Issue Shop raises vital fund by selling products which are are sourced with sustainability in mind, and items from suppliers create opportunities for disadvantaged people.
Choose from ethically sourced jewellery, 100% cotton T-shirts bearing Big Issue covers, or artworks and prints created by people who have been given a hand up by the charity. Or luxuriate in The Goodwash Company's products, where profits go to improve the lives of animals and humans.
Big Green Smile UK
Give Big Green Smile a visit for beautiful beauty gift sets from Badger Balm, Child's Farm, Tisserand, Neal's Yard and more.
Although best know for selling all the green basics you need for the kitchen and bathroom, you can do your Christmas shopping while you stock up on cleaning essentials and baby must-haves, many of which are vegan.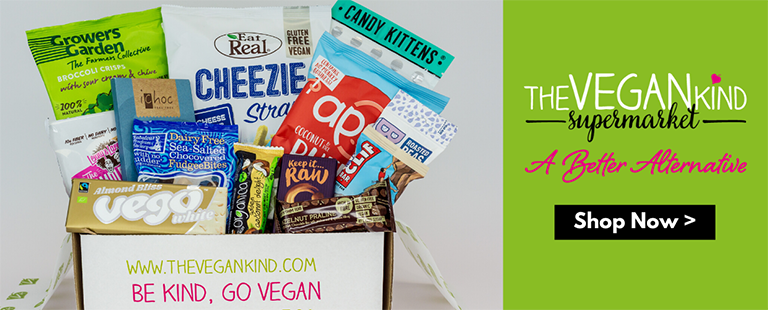 Ethical Superstore
For beautiful fairtrade homewares and chocolate gift ranges from Divine and Montezumas, Ethical Superstore has a collection of items ranging from bath bombs to jewellery and toys to Christmas decorations.
With a range of plastic free kitchen gifts for people who like their presents practical and fun gifts for animal lovers, there is somethign for everybody.
Love The Planet
Love The Planet is a Scottish born beauty brand aiming to help you embrace your love of beauty while reducing your impact on the planet.
A winner of the The Green Parent Natural Beauty Awards, their mineral makeup is vegan, cruelty free, paraben and palm oil free, and dispatched in plastic free packaging - reusable, recyclable tins and compostable refill pouches.
Green People
For luxurious organic beauty products, Green People have a collection of exciting gift sets in recyclable packaging, wellbeing products from Alexandra Kay to soothe your mind and even an organic shampoo for your four-footed friends.
Founder Charlotte Vøhtz's drive to create truly organic skin care began when her young daughter Alexandra, then just a toddler, was battling multiple skin allergies and eczema, and has strived to produce products for sensitive, allergy prone skin.
Original Organics
For environmently concious gardeners, Original Organics have a wide selection of composters, wormeries and water butts.
if you planned on giving a slightly more traditional christmas gift, they also have range of bodycare products has been sourced ethically, sustainably and, where possible, organically. Everything is made from natural ingredients, and most of the packaging is either recyclable or biodegradable.
Protect the Planet
Rapidly becoming the leader in home and garden products for the eco-concious buyer, Protect the Planet's products are either made of recycled materials, promote sustainability, made in the UK, ethically made, encourage you to get outdoors, organic or help save energy.
Their gift range includes gifts for everyone, even kids and pets, from all the biggest eco-brands including BeeBee Wraps, Elizabeth Scarlett, Little Soap Company and dozens more.
Lola & Mawu
Lola & Mawu specialise in beautiful, authentic products which celebrate natural materials and organic shapes. Along with unique vintage pieces sourced from West Africa, all their products are products are ethically handcrafted and fairly traded.
They stock delightful items from home decor and accessories to jewellery, bags and scarves.
Lush
Lovers of Lush's fabulous bathbombs, creams and body butters will evangalise about them - many of their products are vegan, all are produced ethically and they all smell AMAZING.
With recycled packaging, all designed to be as eco-friendly as possible and several products where the procedes go to charity, what's not to like?
Huski Home
Huski Home make sustainable products for eating on the go, with a beautiful and tasteful collection of reusuable travel cups and lunch boxes in delicious colours, along with hand-carved wooden cutlery.
The Green Turtle
The Green Turtle aims to make it easier to make plastic-free, sustainable choices, by providing a huge range of eco-friendly products for delivery across the UK.
They have environmentally-friendly alternatives to lots of your day-to-day products, whether that's beauty items that avoid plastic packaging and use natural ingredients or green kitchen products that actually do the job.